Managing risk is more important than ever for mid-market companies after facing pandemic-related disruption over the past year and a half, according to the new Middle Market Indicators Report of Chubb and the National Center for the Mid-Market (NCMM).
The report reveals the results of a survey of 1,000 mid-market executives of companies generating $ 10 billion to $ 1 billion in annual revenue in the first two weeks of June 2021.
According to the data, 79% of mid-market companies consider risk management to be "extremely" or "very" important to their business this year, up from just 68% in Q4 2020. Sixty-six percent of those surveyed said also said that their business performance improved in the second quarter of 2021 compared to a year ago. However, the long-term economic impacts of the pandemic remain a major concern for these companies, with a third of them believing that COVID-19 will continue to negatively impact supply chains over the next 12 months.
"As risks evolve, it is essential that mid-market companies continually assess how their exposures can change in tandem," Ben Rockwell, president of the Chubb Middle Market division, said in a statement. "The pandemic has presented many challenges and increased exposures for mid-market companies, from tackling new levels of supply chain disruption to remote work policies. As part of the planning process, mid-market companies need to make risk management a top priority, assess what they have in place, and make the necessary adjustments to deal with emerging risks.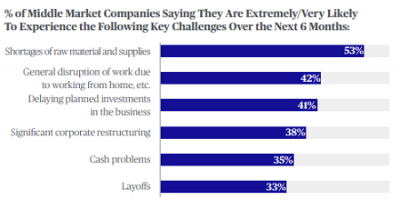 Although risk management is becoming an increasingly important priority for mid-market companies, only 15% of respondents indicated that they rely heavily on the advice of an agent or broker to help them manage. risks, thus providing opportunities for insurance professionals to meet the unique needs of these entities. .
In addition, the report reveals the risks that mid-market companies find most difficult to manage. The following are those risks and the percentage of respondents who indicated the risk was extremely / very difficult:
Insufficient cybersecurity: 40% vs. 27% in Q4 2020
Supply chain risks: 40% vs. 27% in Q4 2020
Competitive risk: 39% compared to 30% in the fourth quarter of 2020
Legal regulatory or compliance risk: 38% compared to 28% in the fourth quarter of 2020
Non-cyber disaster incidents (national disaster, operational problems): 36% vs. 24% in the fourth quarter of 2020
Change of management or control (CEO succession, M&A): 31% versus 20% in Q4 2020
"Agents and brokers are extremely knowledgeable about risk management best practices and can help mid-market companies better understand their exposures, mitigate risk and secure insurance coverage for their unique needs so that they can focus on continued growth and success, "Chubb and NCMM said in a statement.
Related: